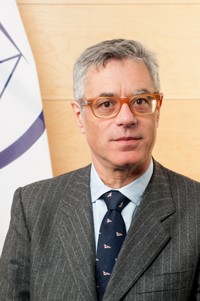 Mr Pietro Spera was appointed Ombudsperson of the Kosovo Specialist Chambers in May 2018.
He has been serving as Judge in the Court of Genoa since 2010 where he presides over trials and facilitates mediation and conciliation. From 2008 to 2010, he served as the Head of the Italian Justice Project in Kabul (Afghanistan), where he coordinated Italy's participation in justice reform projects including the reform of Afghan domestic law and the training of legal professionals, both from the perspective of promoting and ensuring compliance with international human rights law. Judge Spera previously served as International Judge with the War Crimes and Organized Crime Chambers of the State Court of Bosnia and Herzegovina (Sarajevo) from 2003 through 2008. Between 1994 and 2003, he served as Judge in the Court of Lecco (Italy) where he presided over both civil and criminal matters and, prior to his appointment, he worked as an attorney-at-law.
Judge Spera holds a law degree from Genoa University (Italy) and has published on various subjects including case management and judicial efficiency. He is a member of the Roster of Experts for UN Sanctions Monitoring, as well as an expert for the EU project "Strengthening Efficiency, Accountability and Transparency of the Judicial and Prosecutorial System in Kosovo".
Solemn declaration