Group visits to the KSC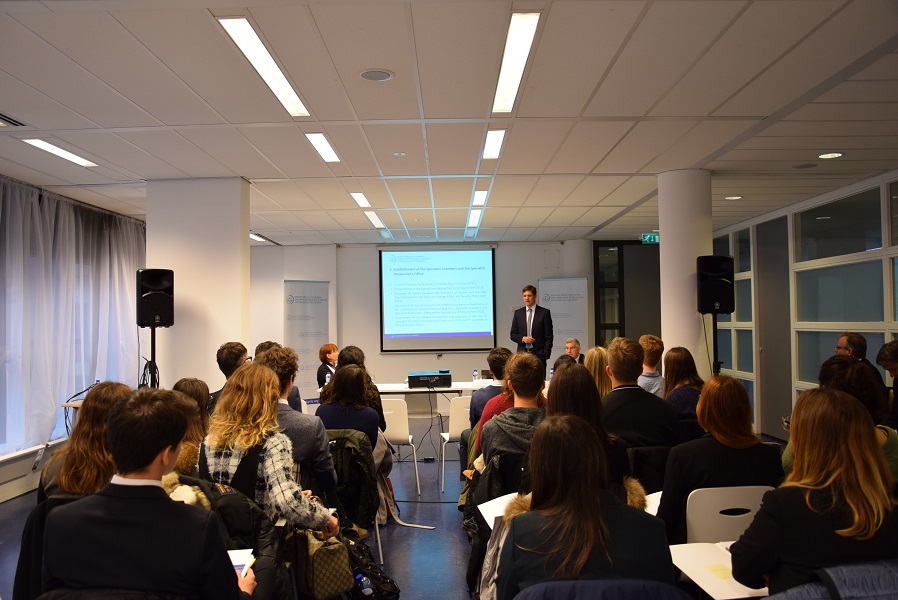 Since 2016, the KSC Visitors' Program has provided students and other groups with the opportunity to visit the court. During such visits, representatives of the Specialist Chambers and/or the Specialist Prosecutor's Office give briefings about the mandate and proceedings of these institutions, followed by questions and discussion. If the public gallery and the media facilities are not in use at the time of the visit, KSC also provides a short guided tour through the public areas of the court (public gallery, media center and press conference room).
Since 2016, over 1351 students from 57 different universities in Europe, the United States and South America have participated in the program. Members of the Indonesia Constitutional Court and the ICC also visited the Specialist Chambers.
How to organize a group visit
Groups of between 10 and 40 people can request a visit by contacting the Public Information Team at mediaKSC@scp-ks.org at least four weeks in advance.
Individuals or groups of less than 10 people can ask to join a scheduled group visit. Please contact the Public Information team at mediaKSC@scp-ks.org for information about scheduled visits and how you can participate.
Please find further information on rules of conduct here and on arrival and registration here.
The KSC can only facilitate a limited number of group visits per week and asks for your understanding in this regard.
The presence of high-level representatives of the KSC and SPO cannot be guaranteed.
---
Please see below a list of universities that visited the KSC's premises during 2019:
Brandeis University (United States)
The Hague Academy (Netherlands)
Universite' de Bordeaux, Faculté de Droit et Science politique (France)
Philipps-Universität Marburg (Germany)
Bordeaux University (France)
London School of Economics - LSE (UK)
Genoa University (Italy)
Ludwig-Maximilians, University Munich (Germany)
Science Po (France)
Universitaet Wien (Austria)
Santa Clara University (United States)
Missouri University (United States)
Creighton University (United States)
The Honourable Society of Lincoln's Inn, London (UK)
---
List of visits from previous years are available below: